ONTARIO BLUES – SENIOR MEN
About the Team – The Ontario Blues are the senior men's representative rugby team for Rugby Otnario. They were founded in 2009 to compete in the Americas Rugby Championship (ARC) against other representative teams from Canada, Argentina, and the United States.
In 2010, Rugby Canada changed the format of the Canadian competition of the ARC, introducing the Canadian Rugby Championships (CRC). The four Canadian teams which competed in the ARC stayed the same, representing the four CRC sides. The Blues went on to win four straight Canadian Rugby Championships (MacTier Cup) from 2011 to 2014 during a stretch where they had 19 wins and one loss over three seasons. They have won two MacTier Cups since – in 2016 and 2018.
For more info on the Canadian Rugby Championships, please go to http://www.canadianrugbychampionship.com/.
CANADIAN RUGBY CHAMPIONSHIP
GAME 1: Blues vs. Atlantic Rock (L 22-34) – August 4, 2018 – Concordia University, Montreal QC
GAME 2: Atlantic Rock vs. Blues (W 22-9) – August 7, 2018 – Burlington ON
SEMI FINAL: Blues vs. BC Bears (W 58-36) – August 23, 2018 – Calgary AB
GOLD/BRONZE: Blues vs. Atlantic Rock (W 22-17) – August 26, 2018 – Calgary AB
Most CRC Championships among the four representative teams (6):
2011, 2012, 2013, 2014, 2016, 2018
Ontario Blues 34 @ 31 New York Old Blue
Randall's Island NYC
Kickoff: 2:30pm EDT
---
Glendale Raptors 25 @ 43 Ontario Blues
Sherwood Forest Park, Burlington
Kickoff: 3 pm EDT
---
Eastern Ontario 41 @ 31 Ontario Blues A
Burlington ON
Kickoff: 11:30 am EDT
---
Atlantic Rock A 25 @ 28 Ontario Blues A
Lindsay ON
Kickoff: 7:00 pm EDT
---
Atlantic Rock 17 @ 29 Ontario Blues
Peterborough, ON (Nicholls Oval Park)
Kickoff: 1 pm EDT
Tickets $10 at Gate; Kids Under 12 Free
---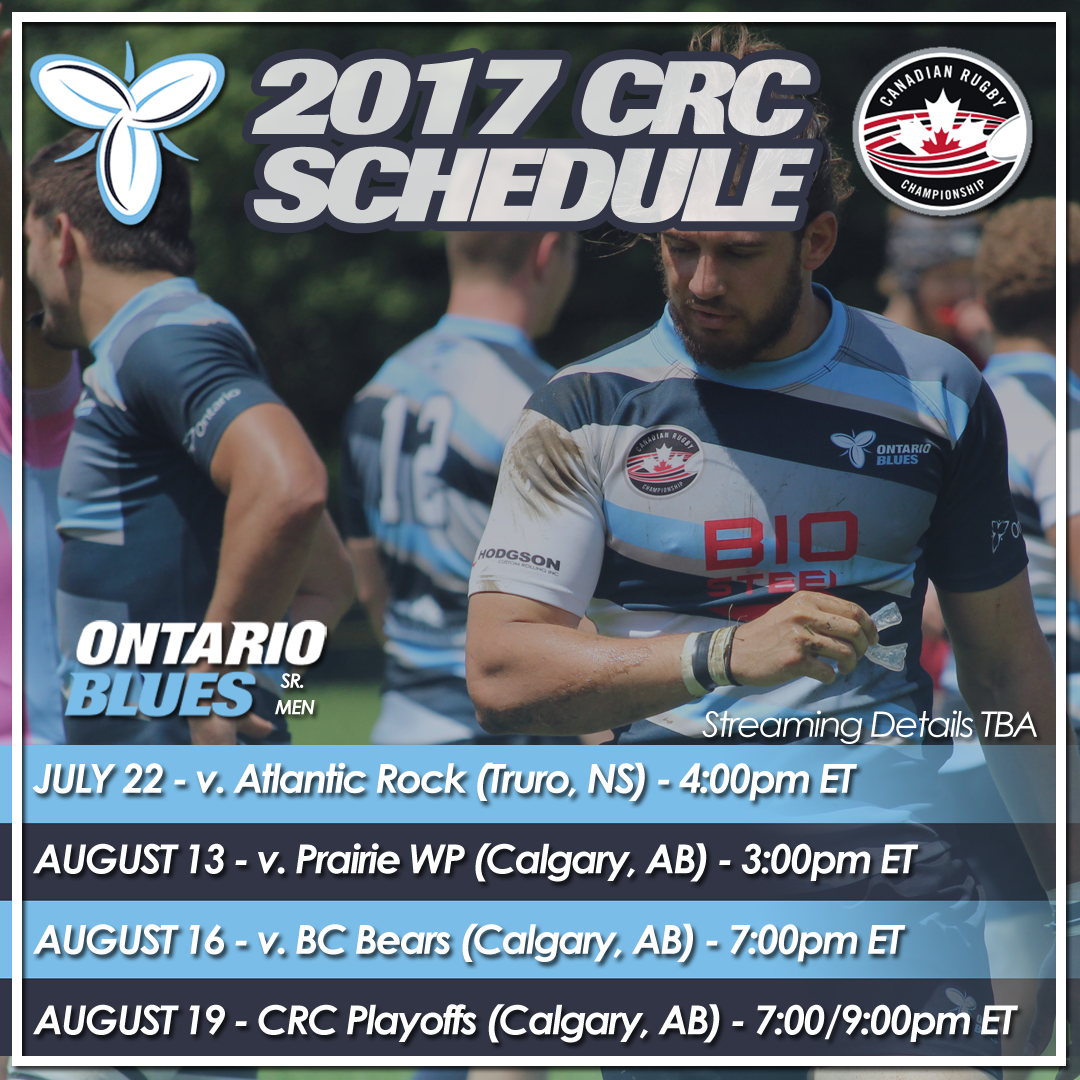 ---
Saturday, July 22,2017
Blues 24 @ 17 Atlantic Rock
Truro NS, 4:00pm ET
---
Sunday, August 13
Blues 44 @ 22 Prairie Wolf Pack
Calgary, 3:00pm ET
---
Wednesday, August 16
Blues 31 v BC Bears 34
Calgary, 7:00pm ET
---
Saturday, August 19
MacTier Cup Final – Blues 29 – BC Bears 30
Calgary 9:00pm ET