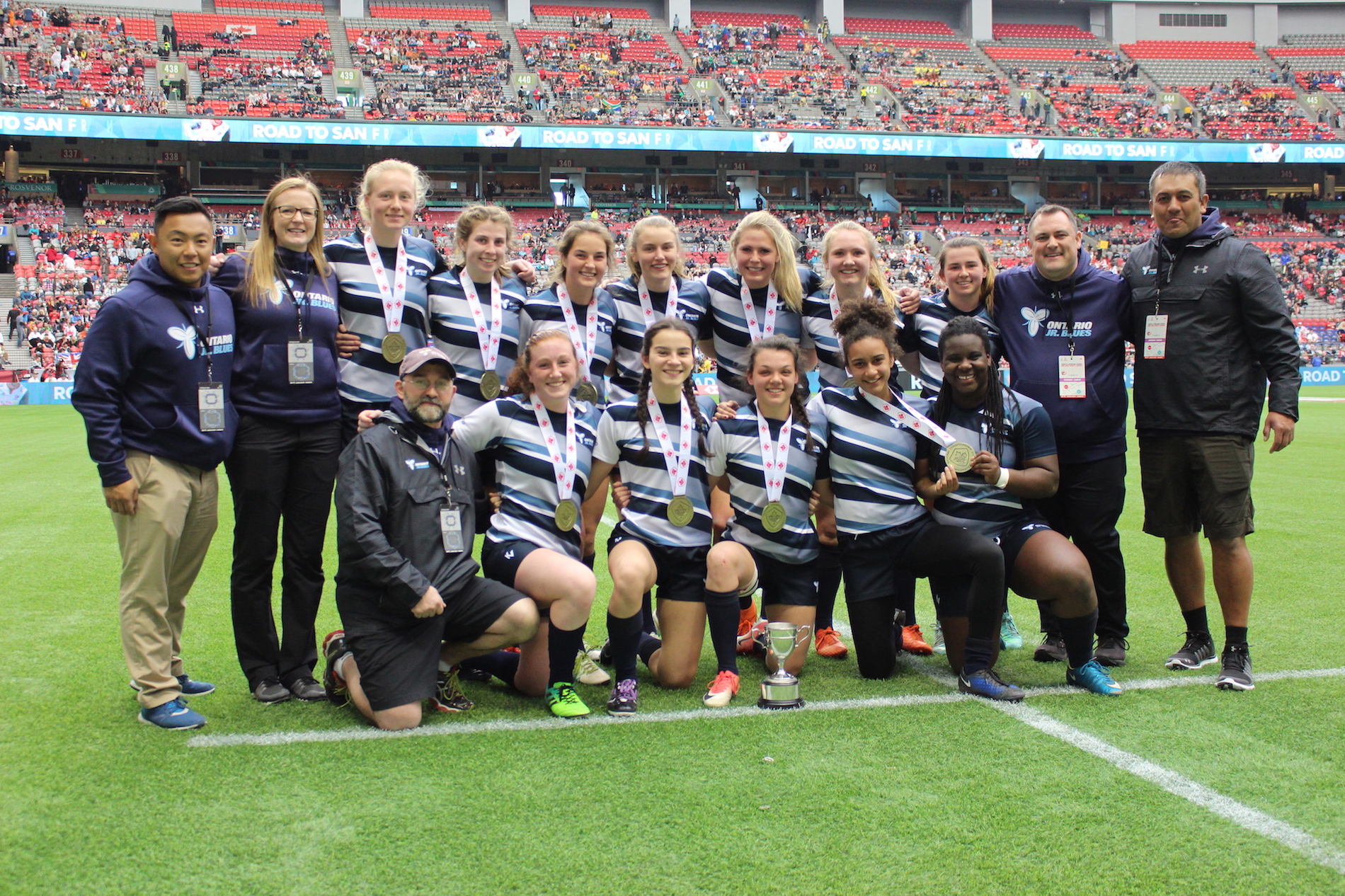 2019 Information – In 2019, the Ontario Junior Blues 7s program will field four Junior Girls teams and four Junior boys teams.
Athletes selected for the provincial 7s program participated in 7s throughout the fall either with a branch or their club/academy. The Rugby Ontario Fall 7s Series represented the identification/selection period for the team. Coaches and selectors were at tournaments and games to scout and engage players.
In 2018, two Ontario Jr. Blues Women's teams (Blue and White) travelled to the U18 7s National Championship in British Columbia. The Blue and White squads finished first and fourth place, respectively. The Blue team won the National Championship over Alberta by as score of 22-21 in front of a sold out BC Place crowd.
The third Women's team travelled to Tropical 7s in Orlando. A great development opportunity for a group of young athletes (many aged 15 and 16), the Jr. Blues finished third overall in the U18 division.
Rugby Ontario Jr. Blues Sevens will be hosting a skill assessment/mini-tournament at two sites on:
Date: Sunday, October 28, 2018
Locations: St. Maximillian Kolbe Catholic High School – Aurora ON / / The University of Ottawa – Ottawa ON
Time: 10am-4pm (TBC)
Cost: $50.00
Event includes: 40 metre, bronco test, vertical jump, 2-3 matches.
This session is to help identify athletes for our EIGHT teams competing in 2019 (2 x U18 Boys, 3 x U18 Girls, 2 x U16 Boys, 1 x U16 Girls) which will train from December 2018- April 2019.
In order to assist the coaching staff/selectors, we ask all players to apply by filling out the survey below:
Please fill out this application: APPLICATION LINK
Only players selected to partake will be e-mailed on Monday, October 22, 2018.
Questions: Khalil Ajram- ka009@hotmail.com
Coaching Staff
Nationals
Ian Fitzgerald – Head Coach
Sean Dunleavy – Assistant Coach
Sonny Raina – Assistant Coach
Vicki Woodhead – Manager
Perry Fan – Athletic Therapist
---
Tropical 7s
Jeremy Cairnie – Head Coach
Vicki Woodhead – Manager